The beloved persona of Santa Claus is somewhat distinctive in that his appearance is neither one that has been solidified through centuries of religious tradition nor one that sprang fully-formed from the imagination of a modern-day writer or artist.
Santa Claus is instead a hybrid, a character descended from a religious figure (
St. Nicholas
) whose physical appearance and backstory were created and shaped by many different hands over the course of years until he finally coalesced into the now familiar (secular) character of a jolly, rotund, red-and-white garbed father figure who oversees a North Pole workshop manned by elves and travels in a sleigh pulled by eight reindeer to deliver toys to children all around the world every Christmas Eve.
Santa Claus is an evolutionary figure.
There
was a period of overlap during which the modern Santa Claus character coexisted with other Christmas figures and other versions of himself.
Transforming the Old World St. Nicholas into the modern Santa Claus was primarily the work of the following nineteenth century Americans of varied national backgrounds:
Washington Irving offered the first literary description of St. Nicholas in America in his 1809 book A History of New York from the Beginning of the World to the End of the Dutch Dynasty, under the pen name of Diedrich Knickerbocker. In this story, St. Nicholas came riding over the tree-tops in a wagon, bringing presents to children.
John Pintard included the first known picture of St. Nicholas to be made in America in his 1810 poem Sancte Claus Goed Heyligman, adapted from the old Dutch song about the gift-bringer.
William B. Gilley, a friend to Clement C. Moore, described Santa's sleigh being pulled by a lone reindeer in his 1821 book A New Year's Present for Little Ones from Five to Twelve.
Clement C. Moore, in 1822, provided the first definitive description of the Santa Claus we know today in A Visit from St. Nicholas, also known as The Night Before Christmas. His fifty-six line poem, written as a gift to his children, changed the Old World St. Nicholas into A jolly St. Nick, a plump, happy-go-lucky elf with a sleigh full of toys and eight flying reindeer. Illustrations in the original edition show Santa to be an elf only three to four feet high and the reindeer only as large as collie dogs. A short, rotund Dutch gardener in Moore's neighborhood may have served as the model for the new St. Nick.
Thomas Nast, illustrator for Harpers Weekly, created several illustrations of St. Nicholas, each year from 1863 to 1886. These creations assisted in the visual definition of the modern day Santa Claus. Each year Nast added more details to his version of the Santa legend, including the home-workshop at the North Pole and the Naughty and Nice list.
Theodore Ledyard Cuyler wrote of his childhood memories of Christmas on the farm in western New York in the 1820's. He told of how they hung stockings at the fireplace for Santa Claus, and mentioned that their black cook witnessed Santa writing him a letter.
Some have claimed that the modern appearance of Santa Claus was a commercial creation of the Coca-Cola company, who cannily promoted a version of Santa garbed in their red-and-white corporate colors. Although this claim i
s not correct,
the Coca-Cola company's efforts have been recognized as an important step in the final picture of the modern Santa.
At the beginning of the 1930s, as the burgeoning Coca-Cola company was looking for ways to increase sales of their product during winter (then a slow time of year for the soft drink market), they turned to a talented commercial illustrator named Haddon Sundblom, who created a series of memorable drawings that associated the figure of a larger than life, red-and-white garbed Santa Claus with Coca-Cola, such as the following: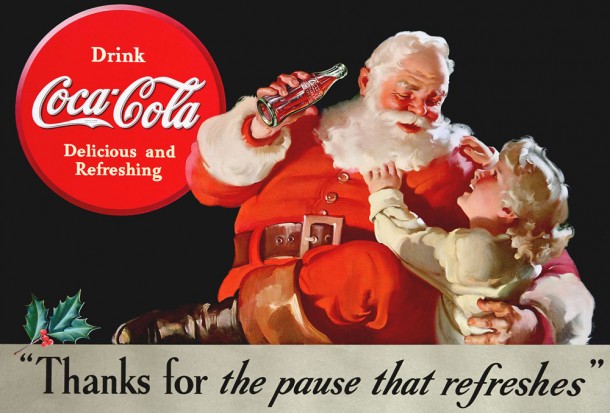 However, the modern version of Santa Claus was not created by
Coca-Cola
; Sundblom's illustrations were based upon what had already become the standard image of Santa, as noted in a
New York Times
article published in 1927, four years
before
the appearance of Sundblom's first Santa-based
Coca-Cola
ad:
A standardized Santa Claus appears to New York children. Height, weight, stature are almost exactly standardized, as are the red garments, the hood and the white whiskers. The pack full of toys, ruddy cheeks and nose, bushy eyebrows and a jolly, paunchy effect are also inevitable parts of the requisite make-up.
Illustrations of lavishly bearded Santas (and his predecessors), showing figures clothed in red suits (and hats) with white fur trimming, held together with broad black belts, were also common long before Coca-Cola's first Santa Claus advertisement appeared, as evidenced by these examples from 1906, 1908, and 1925, respectively:
And yet, the efforts of Coca-Cola and Haddon Sundblom
cemented the modern image of Santa Claus in the public consciousness. Coke's annual advertisements featuring Sundblom-drawn Santas holding bottles of Coca-Cola, drinking Coca-Cola, receiving Coca-Cola as gifts, and enjoying Coca-Cola became a perennial Christmastime feature which helped spur Coca Cola
sales throughout the winter (and produced the bonus effect of appealing quite strongly to children, an important segment of the soft drink market). In an era before the advent of television, before color motion pictures became common, and before the widespread use of color in newspapers,
Coca-Cola's
magazine advertisements, billboards, and point-of-sale store displays were for many Americans their primary exposure to the modern Santa Claus image.
Read more
at
http://www.snopes.com/holidays/christmas/santa/cocacola.asp
http://joychristmas.blogspot.com/2008/11/american-santa.html
http://joychristmas.blogspot.com/2008/11/early-origins-of-santa-claus.html
http://joychristmas.blogspot.com/2008/11/st-nicholas.html